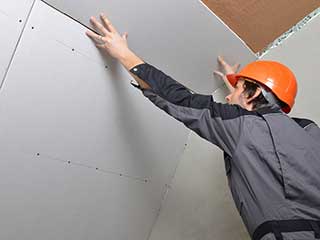 Your Drywall Ceiling Professionals of Choice
Though repairing or replacing a part of your drywall ceiling may seem simple enough, it is always wise to hire a professional for that smooth, glossy look as well as proper function. Fiddling with repairs and installations yourself, especially if you're not experienced, can result in related costly repairs down the road. Besides, count in the considerable mess, specialized tools required, and multiple skills one ought to have and you'll quickly realize why contacting our team at Drywall Repair & Remodeling Canyon Country is the best way to go forward.
Cracks and Structural Damage
Cracks along your drywall ceiling are not only hideous to look at but can be dangerous as well. It's always a good idea to hire a contractor as soon as you notice any developing cracks and other structural damage. By having a professional repair service conducted early, you'll avoid parting with more money as time goes on and the problem worsens.
Skilled Team of Home Improvement Technicians
Our technicians are fully experienced in dealing with a wide range of cosmetic and structural cracks. By not ignoring the problem and contacting us as soon as possible, you'll prevent the cracks from spreading and causing more damage. We're competent in re-securing and re-taping your drywall seams which have been rendered loose by the existing cracks.
Water Leaks & Damage
Poor plumbing work can cause havoc on your drywall ceiling. If water has damaged your ceiling to the point where it needs replacing, count on our team to get rid of the soggy drywall and replace it with new material before the situation goes south. You can trust us to complete the job on time, accurately, and at an affordable price.
Custom Installation Solutions
Our technicians are highly-skilled in hanging and installing new drywall correctly and to your particular needs. Rest assured your new ceiling will look great once we're finished. Also, we understand the urgency of each task and aim to send a technician out to your door as soon as we possibly can.
Let our team take care of it for you!

Popcorn Ceiling With Soarkle

Tile Installation On Wall

Drywall & Ceiling Repair

Drywall With Vapor Barrier