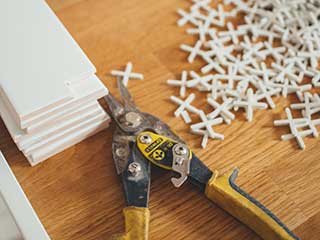 You can create beautiful decorative tiled surfaces with help from local contractors. Installing new tiles in the kitchen or bathroom, or outdoor areas, takes a lot of work, though. But don't worry, you've got professional tile installers in Canyon Country ready to take on this undertaking and complete it in record speed. We offer customers from all nearby areas free estimates on decorative tiling work for walls, floors, and outdoor patios and gazebos. Consult with our professionals to choose the tiling material and design that best meets your needs.
New Porcelain Tiles Installed
The beauty of porcelain makes this material highly sought out. The pearly white hue, combined with decorative twirls and dotting can elevate décor in a lovely way. But it's more than aesthetics that give porcelain tiles such a great reputation. Durability is just as available. Porcelain tiles can last for a long time and will resist damage and moisture far better than, say, ceramic ones. The hardwearing nature of porcelain tiles makes them also suitable for outdoor installation. That means porcelain tiles make for great additions to pergolas, gazebos, backyard patios, and other exterior spots. As the best local Canyon Country tile installers in your area, our experts will happily meet with you to provide a free quote on this type of work.
Kitchen Wall Tiling
Protecting the walls of the kitchen from splashing liquids and oils with tiles will prove successful. But another advantage of installing kitchen wall tiles in your Canyon Country residence or business is their ease of cleaning. The tiling work does add to the aesthetic of the kitchen, sure. But the greater benefit is that kitchen wall tiles will repel liquids and won't let them absorb. That means wiping them down becomes a simple task that takes little to no time. That way, you can make a huge mess in the kitchen, knowing your wall tiles prevent it from becoming a chore to clean up.
Beautiful Canyon Country Bathroom Tiles
Naturally, whenever tiles are involved, aesthetics becomes the desired outcome. But bathroom tiles serve a much more important purpose. Shower tiling helps to prevent moisture absorption into the drywall or other material behind the tub or shower tiles. Water can soak into walls and turn into mold or cause things to rot. But bathroom tiles help to prevent that with their moisture-resistant and liquid repellant surface. The grouts receive a sealing of anti-moisture properties, and the tiles keep water from soaking through. Combine this utility with the different decorative tiles you can choose, and you've got an excellent addition to your Canyon Country bathroom walls and floors.
Laminate Floor Tiling
That lovely and rich-textured look of wood gives a sense of class to rooms. No doubt about that. But the main downside of timber is its high maintenance requirements. Well, with laminate tiles you don't need to worry about that. These floating wood tiles mimic the texture and color of timber, creating a homey feel without the need for regular recoating and moisture protection. Laminate tiles make for great décor additions that simulate wood without the added upkeep. Interested in getting new tiles installed near Canyon Country somewhere? Call us and get a full free estimate on any tiling or interior/exterior remodeling service you want.
Having your tiles installed when you're remodeling your home or renovating it is a great way to add value to your property while enhancing the look and functionality of your home. For your peace of mind and a service that's neat, prompt, efficient and affordable, get in touch with Drywall Repair & Remodeling Canyon Country today.
We Stock a Wide Range of Products
We are working with top brands in the industry to deliver you only the finest and most durable products for your tile needs. With us, you are able to choose from a wide selection of tiles that come at a reasonable price. Here are some of the tiles that are available for your home:
These are great for a more natural look and increased durability. Ideal for kitchen worktops and backsplashes, stone tiles can enhance the look of your home while providing excellent sturdiness you'll cherish for a long time.
A classic type of tiles, ceramic tiles fit into most designs and can nicely complement the look of your room, kitchen, or bathroom. With ceramic tile installation you won't need to frequently maintain your tiles and will achieve a beautiful look at an affordable price.
Beautiful Porcelain Tiles
Are easy to clean and look amazing. They'll add aesthetic value to the high-traffic areas of your home and are fairly easy to modify and customize too.
While they're not the most common pick for our customers, glass tiles are actually very easy to clean and add a lovely look to your home if matched well with the interior.
Best Professionals for the Job
We've built a reputation of being one of the best providers of tile installation services in the whole of California. We've got a loyal following of customers who turn to us for their tiling projects and we intend to remain their first port of call. Let us know if we can help you with any tiling work, too!
Your home and business deserve the best. You can also count on us for:

Drywall Hole Repair & Painting

Tile Installation Without Grout

Basement Ceiling Drywall Repair

Popcorn Ceiling Removal & Repair