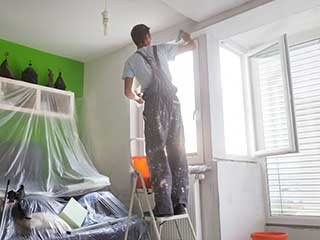 The internet has revolutionized the way many people work and do business. In recent years, more and more people are working from home, either full time or part time. To do this successfully it's important to have space that's purely dedicated to work. A home office should be free from the distractions of your average household, yet still comfortable and functional so as to optimize productivity and keep you motivated and disciplined. Setting up a home office takes a bit of time and effort, but it will be worthwhile in the long run.
Find The Perfect Room
If you have a spare room in your home that you can convert into an office, then the job is halfway done. If you don't have a spare room, look at other areas like your garage or even your garden shed. Keep in mind that whatever you choose, you want your office to have lots of natural light and you need a window for fresh air during the hot summer and heating for the cold winter months.
Design Your Layout
The next step is to design the layout of your office. If you are converting an area of your garage or using a garden shed you can line the walls with drywall for a quick and great looking finish. Then you need to decide where your desk will be placed and how much storage space you'll need for documents, books and other supplies. You can buy readymade cabinets but these days the more practical solution is to have them built in. If you don't want a free standing desk, you can also opt for one that is built along the entire length of a wall or a whole corner. This is particularly useful if you need to spread your work out or if you and your spouse work together. Our experts can help you install built in desks and cupboards.
Don't Forget To Insulate
Working from home takes a lot of dedication. If your home office is too hot during summer or too cold in winter you will find endless reasons and excuses not to work. Insulation material, such as mineral wool can be packed into the frames along the externals walls before lining them with drywall. Then, all you need is a small split system air conditioner and your home office will be comfortable all year round. For more information, don't hesitate to contact our team at Drywall Repair & Remodeling Canyon Country.