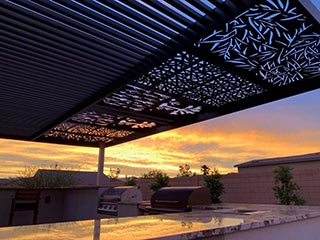 For those looking to beautify their decks and patios, but also to add utility and functionality, outdoor kitchens have plenty to offer. Eating outside in your backyard or out on your front porch lets you enjoy the fresh air in protected settings. With an outdoor kitchen setup custom-built into your Canyon Country deck/patio, you have everything you need right there with you. As opposed to having to travel back inside each time you want something. Outdoor kitchen cabinets and countertops make everything from food preparation to the actual cooking on the grill station or outdoor stoves easy. Not only that but fun too! You can get the whole family active, and then eat together in your outdoor kitchen and bond, instead of having everybody obsessed with their tablets or phones.
Outdoor Tabletops & BBQ Islands
Adding this sort of setup to your patio makes things a lot more convenient. After all, if this is to become an outdoor kitchen you'll regularly work in, you need to have areas to chop, dice, and slice. A BBQ island or a stone countertop will do the trick, especially when under patio covers and canopies. You can get outdoor tabletops installed in any part of the patio or deck. And with wood tables and stone islands for cutting vegetables and alike, you'll have an easy time doing that. The designated food preparation stations of the outdoor kitchen in your Canyon Country patio needs to present the most convenience. BBQ islands and outdoor tabletops can do that. Plus, the tabletops also provide a place to eat at afterward. Gather the family around the outdoor kitchen table and enjoy the bonding experience in the fresh outdoor air.
Custom-Built Outdoor Cabinets & Grill Stations
The utility doesn't end with tables and counters. You need to have a designated spot in your outdoor kitchen to cook the food. That can mean an outdoor stove or a grill station connected to sinks, gas lines, and electrical outlets. Cooking food can require some hustle and bustle, so you'll want to have everything around you at reachable spots. That's where custom-built outdoor kitchen cabinets can really play a factor. From storing utensils and dishes to all sorts of seasonings and other kitchen items, cabinets provide a world of convenience. They need to stay durable and protected from the elements, of course. So you can choose brick grill stations with paver counters, or composite wood cabinets for your outdoor Canyon Country patio kitchen. To name a few options. Naturally, there's a huge range of choices to pick from, and you can customize a variety of designs.
Canyon Country Patio and Deck Kitchen Builders
This type of contractor work requires expertise and lots of hard work. Luckily, our deck contractors have those in droves. Looking to upgrade your patio with a new outdoor kitchen? Maybe you want to have us build you a new deck with cabinets and countertops from scratch? Whatever the case, we've got the local contractors to get the job done right the first time. Call and schedule your free estimate to see our wide range of outdoor kitchen options for Canyon Country area properties.