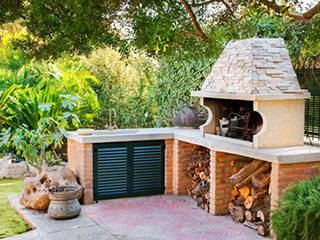 Having a nice lawn or garden makes a big difference in your quality of life. If you want to get as much out of it as possible, even when the weather won't cooperate, you can install outdoor heating features. Electrical systems are alright for this, but if you're going to the trouble of adding them why stop there? Fire pits and outdoor fireplaces add a ton of extra utility to your property, on top of the heating benefits. It's hard to beat the aesthetics and atmospheric value of a crackling fire out back, especially if your Canyon Country property has some space to fill. Read on for some outdoor fireplace ideas and creative approaches to outdoor heating. Remember, our professional exterior remodeling contractors provide free estimates on outdoor heating for decks, patios, and yards. So we're happy to help even with a free consultation.
Wood Fire Pits And Outdoor Fireplaces
When we're talking about fire, wood is the first assumption most people have. There's a reason for this! There's something about a wood fire pit that appeals to our primal humanness, and one provides light and cooking as well as warmth. A wood or charcoal-burning fire pit is the cheapest option for outdoor fire features, and arguably the safest. If you don't already have a propane tank and you want to install a patio fireplace, a wood-burning model is the easiest addition. Adding such outdoor heating features to a Canyon Country paver patio or a hardwood decking offers a lot in various aspects. For once, it adds an aesthetic to the landscape design. And of course, it provided excellent ways to enjoy these outdoor spaces even when it gets a little chilly.
Propane Fireplace – Benefits And Drawbacks
A wood fire pit needs covering for itself and its fuel supply if you want to use it in all weathers. Wood also has the weight and encumbrance issue, since it takes a lot of space to store the fuel and a lot of effort to load it. Propane fire pits avoid all of these issues. An outdoor gas fireplace installed in your Canyon Country patio burns dry and steady even if it's wet outside, and you can adjust the heat with the turn of a crank. The gas fuel for propane fire pits is somewhat costlier than charcoal or firewood. Propane tanks and pipes have safety requirements. A fire pit that uses propane can also be harder to move because of its fuel supply. That said, outdoor gas fireplaces and propane fire pits are easy to use and simpler to contain and clean than wood.
Mobile Or Stationary Fire Pits?
Some fire pits are raised on table legs or similar, which makes them easy to move around. Others are built in place, either in a raised structure or dug into the ground and reinforced. Wood fire pits are easier to move, while propane fire pits need stationary fuel supplies. Built-in fire pits can be larger, making them more effective as sources of outdoor heating, as well as more spectacular. You should also ask yourself if you'd prefer a fire pit table. A raised fire pit with flat space around it, the fire pit table can be the center of a whole outdoor kitchen. If you want a big, outdoor fireplace-sized one though, it'll have to be built in place. With a custom-built fire pit added to your Canyon Country outdoor lounge, you can enjoy cooking, eating, and simply lounging outside even as temperatures start to drop.
Designing Outdoor Heating For Your Canyon Country Home
Our team provides free estimates on all exterior remodeling projects. Wondering how to work a patio fireplace into your Canyon Country property (residential or commercial)? Give us a call. If you want to know if a propane fire pit is safe to install with your layout, we go over everything with you and give you a free estimate on the project. Outdoor fireplaces take a bit of investment, but the end results make it all worth it. Call us and get started with free quotes, suggestions, and guidance.